In the Aftermath

"The county allowed us into our stores for about 10 minutes. I was only able to get my server at that time. Two-thirds of my inventory and store displays were damaged by the flood. My whole section of inventory for eBay sales is destroyed." Barnes tallies the loss to be about $30,000 in inventory.
Jason had just started working with his Retail Pro Business Partner, Complete Data Systems, when he bought the store. Prior to that, they had not been actively using the data they collected in Retail Pro – but they also had not taken steps to secure the data.
If his store computer would have been damaged, all of his data would have been lost in the flood, because the store had no data backups. Jason would have to reenter all of the thousands of his inventory items and his employee data, and collect all new customer data. All of his vendor history would have been lost, as well as all of the sales data he would have used to make projections.
Thankfully, his computer did not suffer damage and all of that data was preserved in the Retail Pro archive.
"Our first action item was to do a remote backup of that information so we could put that onto new computers, so he does not have to start at zero," said Michael Armstrong, Sales Director at Complete Data Systems. "We are fortunate that his loss wasn't completely catastrophic and we were able to go back to his database, save all of his data, and then reinstall that on new hardware."
While the County was busily rebuilding the streets of Ellicott City, Barnes was working from home with his children, busily planning for his grand reopening – recovering data and upgrading his Retail Pro with Complete Data Systems, and preparing his inventory. On January 21, 2017, Barnes and all of the All Time Toys fans celebrated that grand reopening, complete with R2-D2 and a light saber for the ribbon cutting.

Online Sales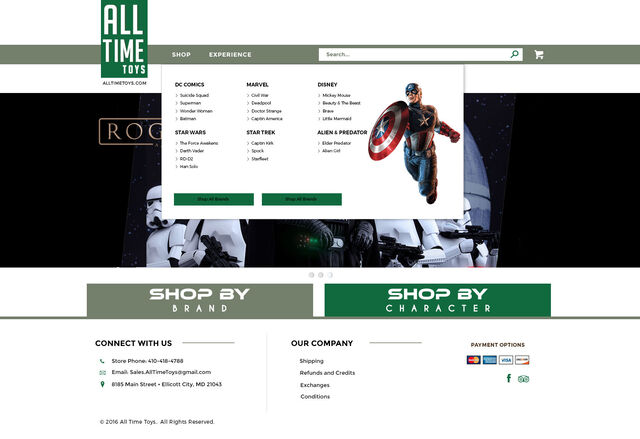 In addition, All Time Toys is rebuilding their website with Retail Dimensions.
Retail Dimensions built a website on X-cart for All Time Toys and integrated it to their new Retail Pro 9. With this integration, Barnes will have the ease of:
Dynamically updating categories and product assignments
Merchandising items for the web while keeping item quantities and prices current
Automatically downloading orders and customers to Retail Pro
Automatically updating orders on the site upon shipment
"We are excited to be part of Jason's team in rebuilding All Time Toys! Retail Dimensions is helping him get his site back up so the integration to Retail Pro will be running again when his store reopens. And we are suspending all fees for him until he's able to get back on his feet after all this. Jason is an amazing story of persistence, resilience and faith," said Kurt Beeken, President of Retail Dimensions.