Dubai Hosts Retail Pro University's SYSxpo Training
Graduates of the 2017 SYSxpo event in Dubai.
The third stop for this year's SYSxpo global training tour was Dubai, UAE, where attendees from Retail Pro Business Partners in the Middle East region got an in-depth view of the latest version of Retail Pro Prism.
SYSxpo is a six-day, hands-on training providing technicians with practical knowledge for deploying, supporting, and servicing Retail Pro Prism. The course covers basic installation and troubleshooting as well as Retail Pro Prism's core features and functionality. Also included are introductions to some of the newest features like the Promotions module, which continues to generate great interest at each of the locations visited so far.
The training was facilitated by Ket Venethongkham, Director of Retail Pro University. "The students attending SYSxpo in Dubai not only had the opportunity to get some very practical hands-on experience, but they also had the opportunity to see Retail Pro Prism working in a large retail environment," said Venethongkham. "It really reinforces how flexible and robust Retail Pro Prism is when you see firsthand how effectively it is able to handle all aspects of retail store operations."
Students learning about Retail Pro Prism during the SYSxpo event in Dubai
Students were also given an inside look at more advanced topics like:
Deploying Retail Pro Prism under different configurations, including the cloud
Leveraging REST and communications API for Retail Pro Prism plug-in development
Customizing the client-side user interface
Setting up and using the new Promotions module
Attending the Dubai conference were representatives from almost every business partner in the region including Crystal Mind, Diamond Soft, Inditech Middle East, Insight Consultancy Services, PricePoint, Retail Technology SA, and System Plus. Also in attendance was a new partner from Ghana, Cortex Ghana. Qwikcilver, a development partner for Retail Pro, was also represented.
Al Futtaim, one of Retail Pro International's largest customers in the region, was one of many customers who attended SYSxpo. Al Futtaim also arranged for a tour of Robinsons, a luxury department store located in Festival City, Dubai. Students had a chance to see Retail Pro Prism in action at this location, which was a recent Retail Pro Prism deployment.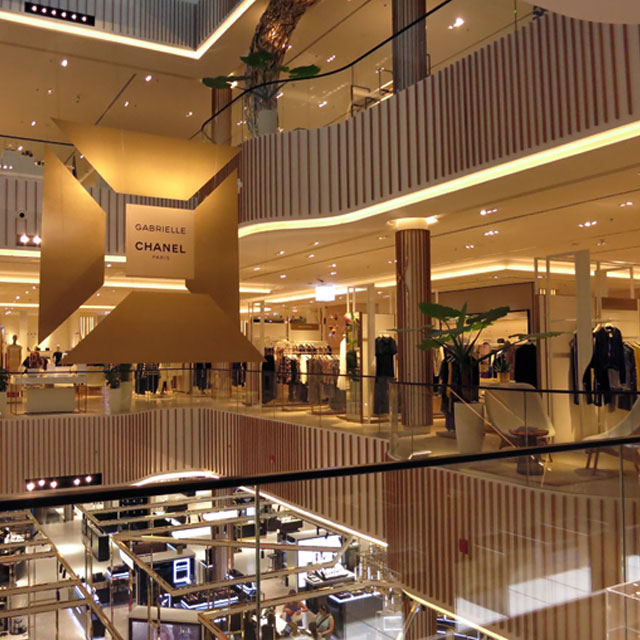 SYSxpo attendees had the opportunity to view Retail Pro Prism in action at Robinsons.
At the end of the six-day SYSxpo class, each participant received two Retail Pro certifications: Retail Pro Prism Systems Engineer (RPPSE) and Retail Pro Prism Applications Expert (RPPAE). Attending one of the five SYSxpo events in 2017 is the only way to obtain Retail Pro Prism certification at this time. The cost of certification is included in the session registration fees.
Additionally, technicians who need to renew their Retail Pro 9 certifications can do so at the event for no additional charge.
After the six-day training, some students stayed on for a 2-day workshop on Retail Pro Decisions, the new multi-source visual analytics module for Retail Pro. Retail Pro Decisions leverages Targit methodology, foundational analytics engine used by over 5,500 companies in 60 countries. This training was led by Danilo Rufino, Market Strategy Manager for Targit. The goal of this workshop was to introduce partners to Retail Pro Decisions and provide best practices for demonstrating and selling the solution.
Danilo Rufino (seated, right) demonstrates Retail Pro Decisions for students at the 2-day Retail Pro Decisions workshop following SYSxpo in Dubai.
The next stop on the global SYSxpo training tour is in sunny California from October 23rd to the 28th. The final session is scheduled for London from November 13th to November 18th.
Additionally, a five-day Retail Pro Decisions certification class will be held from October 17 to October 21 at Retail Pro headquarters in Folsom, California.
To get on the registration list, email training@retailpro.comwith your name, email address, and class location preference. Registration fees vary by class.