As families and businesses have been doing their part to contain and eradicate COVID-19, frontline heroes emerge: doctors, nurses – and pharmacists.
These dedicated pharmacy professionals play a large role in helping people maintain a level of wellbeing with the prescriptions they fill, and their essential work is supported by technology with the use of POS and retail management software to ensure accuracy and efficiency in their operations.
In Pakistan, for example, pharmacies like Meri Pharmacy, Ehad Healthcare, DVAGO, MedAsk, and many others, leverage the flexible Retail Pro Prism point of sale platform in their retail locations.
Retail Pro Prism is a platform technology for specialty retail with an accessible application programming interface (API) which allows the software to be customized to fit the needs and precise operations of a wide variety of retail verticals – including pharma retail.
Pakistan-based Retail Pro Business Partner, Computing Solutions, leveraged Retail Pro Prism's platform technology to create customizations specific to pharma retail's industry needs.
Here are 6 add-on customizations made to work with Retail Pro Prism to support the needs of pharmacy retailers.
1. Instant item lookup
Retail Pro Prism gives sales associate multiple ways to look up items, including:
UPC
ALU
Description fields
DCS
Vendor name
Vendor code
Serial number
Lot number
Here, the plugin expands Item Lookup capabilities to display possible inventory matches as you type, decreasing time required to search for a product when a barcode is not available.
The customization also allows you to combine multiple fields in the lookup, like price and on hand quantity.
2. Shortcut keys
Getting customers through the queue quickly and efficiently is important to the customer experience in retail, and even more so during COVID-19 as shopping trips for essential items are strained with awareness of risk.
Retail Pro helps increase efficiency at the point of sale by giving retailers control in tailoring the user interface to mirror their workflows and reduce unneeded steps.
With this plugin to Retail Pro Prism, the pharmacy team can do their work at the POS entirely with keyboard shortcuts, reducing time spent in switching back and forth between keyboard and mouse.
These keyboard shortcuts are customizable to the retailer's requirements and significantly improve transaction speed.
3. Image upload for prescriptions
For retailers whose customer experience is built on a one-to-one, clienteling approach, customer history in Retail Pro Prism is an important tool.
In the customer history you can see past purchases and notes, so a sales associate can pick up where they left off and make relevant recommendations for a shopper's needs today.
For pharma retail where they deal with the delicate issue of patients' health history, the ability to view prescription histories is a regulatory requirement.
This plugin to Retail Pro Prism allows the pharmacy team to upload multiple prescriptions, sketches, or any other useful images related to the customer.
These images are centrally synced and available to be viewed across stores, ensuring that customers visiting any pharmacy in your chain will be met with employees knowledgeable in the customer's prescriptions.
4. Alternate product suggestions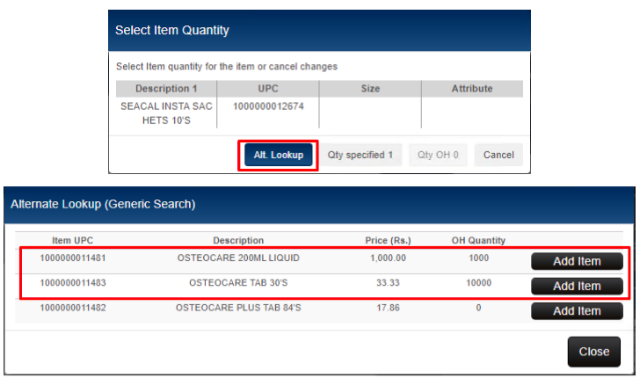 When a product is not quite the right match for your shopper, having a working knowledge of your inventory is helpful so you can suggest alternatives and still save the sale.
In pharma retail, this is especially useful as brand label medicines also have generic counterparts. Tapping into the full breadth of inventory in Retail Pro, this add-on customization recommends alternative products based on the drug formula.
This functionality can be used to make recommendations based on size, color, design, fabric, and other item descriptors.
You can sort suggestions based on margin or on-hand quantity, giving you helpful insight when cross-selling or upselling.
Lot management is also easy and effective, and products can be recommended on a First Expired, First Out basis.
5. Dual printing
Retail Pro takes on an open hardware approach, giving you flexibility to leverage the hardware and peripherals you need for your store strategy.
Receipt and label or barcode printers are still common staples – and retailers are applying them to broader use cases.
In pharma retail, this plugin to Retail Pro Prism allows the pharmacy team to simultaneously print a receipt and a label. Personalized dosage instructions can also be saved with the receipt and printed, and a QR code can be added for easy re-ordering.
6. Duplicate customer check
Customer management tools in Retail Pro help you collect the information needed to know your customers, uncover their shopping propensities, and apply the insights to your merchandising strategy. The health of your customer data is critical in this.
Built-in customer lookup tools in Retail Pro Prism can be customized with this plugin to conduct a duplicate customer check based on the phone number or any other identifying field.
With cleaner customer records, you can improve customer-based reporting and glean more accurate insights from your data.
Get creative and stand together
Retail Pro Prism is as flexible as your team can get creative as you strive to optimize efficiency in your stores.
These are just 6 add-on customizations that work with Retail Pro Prism through its flexible API and user interface.
By use of this platform technology, Retail Pro Prism was augmented with customizations for the needs of pharma retail in Pakistan. This is just one small way Retail Pro is helping the essential workers on the frontlines of the fight against COVID-19.