Knowing your customers is key to creating effective marketing campaigns and promotions.
There are myriad ways to slice your retail data, so how can you form smart segmentations that will help you deliver tailored marketing messages to relevant group of customers for higher redemption rates and sales?
As a retailer, you are collecting lots of useful data through your Retail Pro POS. OptCulture Marketing for Retail Pro is the tool that allows you to use that data in a way that facilitates a higher level of customer engagement leading to increased revenue for your business.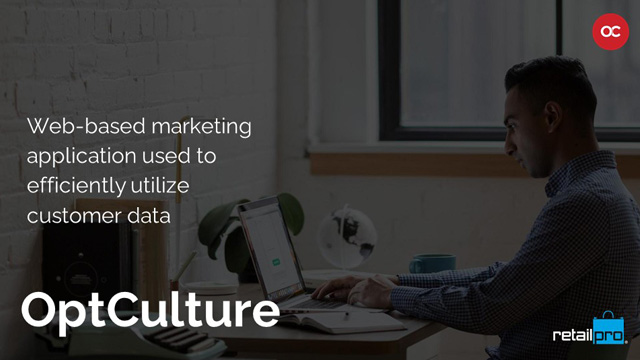 OptCulture provides retailers with a complete suite of solutions that integrate directly with your Retail Pro point of sale system and ecommerce platforms, giving your customers a full circle experience with loyalty and promotions.
Customers that enroll online can redeem points in-store and customers that earn rewards in-store can redeem online.
OptCulture also offers loyalty mobile applications that can display the latest offers for customers as well as keep them up to date on rewards earned through recent purchases.
Using integrated data in your OptCulture Marketing for Retail Pro, you can create better segments that will help you boost sales.
Segmentation
Segmentation is basically an elaborate way of describing the filtering of customers.
Which of your stores is their go-to location? What are they buying? How often are they opening and clicking through emails?
These are just the basics. The real fun begins with asking the right questions.
Where to start
Think of the different products your store sells.
Do your customers exhibit brand loyalty? Are there different genders that purchase from different departments? What is the average purchase amount per customer? How often are your regular customers visiting the store?
All of these questions lead to better answers when it comes to communicating and advertising to your market base.
Why should you do this? In today's data driven marketing environment, customers simply do not engage with advertisements for things they are not interested in.
If I have only bought Nike shoes from my local shoe store and they keep sending me advertisements for Adidas shoes, New Balance, Vans, etc.,  I am very  unlikely to engage with those communications and may just unsubscribe altogether.
The process
Consider your inventory and what products you see customers purchasing or not purchasing.
As a sports clothing retailer, segment your customers based on the team that they support.
Look at sales reports, is there a day that is always slow? Consider running double rewards on these days.
What questions do you have and how can the data you are collecting be used to answer them?
What follows next are the 6 easiest examples of customer segmentation that every retailer should be doing, and then we'll look at post-campaign analytics which will help refine our next steps in the overall marketing plan.
This first example is a very easy segment to set up. Think of how often your average customer shops. Is it once every 3 months, every 6 months, once a year? Then let's take those rules and go right on into OptCulture and create the segment.
For this example I have created a segment for customers that have made less than 2 purchases and have not shopped with me in the last 6 months.
To do this I simply click on the rule I would like and drag it into the appropriate area. Rules can be combined in an "and" fashion as well as an "or" fashion. 
I can now target these customers every 6 months with an automated email or SMS message and include an offer in attempt to get them back into the store
Our second example relates to items in  your store.
Are there products that your customers need to replenish or refill? Customers that shop for products that have limited lifespans will need to buy more at some point.
Think about tire shops. When you get new tires in Houston, after a few months I will get a reminder for balance and rotation and then a few months later an advertisement for all new tires. All retailers should be doing the same things in regards to their products.
Here's another example: High performance surfboards last at most a year or two.
Segmenting out customers who purchased that product within a particular time frame gives me an idea of who should be coming back in for a new one. If they have not, I could create a call list for my staff to reach out to.
The third example also relates to products. Are there items that are typically sold together? Shoes and socks? Kayaks and paddles.
Think of products you sell that go together and come up with some rules that you can take to OptCulture.
An example we came up with would be if a customer purchased a bike but without making a purchase for a Helmet.
Reach out to them with an email advertising safety equipment that is important for bike riders, or even places to ride their new bike and groups to meet up with.
Our Fourth example is going back to customer behavior.
What seasons or months are most important to your business? Are there holidays that your customer base shops on? Mothers Day? July 4th?
Create a segment for them and advertise products that are popular for that season.
Here we created a segment for customers that shopped prior to Christmas and we also added a rule that targets customers who on average spend $100 or more.
This will give us a good group of customers to reach out to when we know what we will have in stock for the Christmas season.
In this fifth scenario, we look at items that require special care or warranty information to be filled out.
In the event that a garment requires special care, with OptCulture you can follow up that purchase with an automated email or SMS explaining exactly how to care for that product.
Are there items your store sells that require customers to fill out warranty information?
In the example of a bike store, customers who purchase high end bicycles fill out warranty forms that are returned to the manufacturer. Make this process seamless by automatically emailing these customers the details that relate to their warranty.
Here we created a segment for customers that purchased a silk item the previous day.
This segment can be attached to a daily email campaign and customers who fit that criteria will be sent the necessary email. This is just a simple example.
Any information you are bringing into Retail Pro can be mapped to OptCulture so that you can segment out exactly the customers you are looking for.
6th and last on our list, while certainly not least, relates to segmentation based on customers interacting with your communications.
Consider the seasonal email you just sent out for summer items.
What was the open rate? Were there any clicks?
Why not reach out to those who clicked through the original email with a follow up in a few weeks?
Even better, reach out to those who clicked but did not make a purchase. Their click expressed interest; segment them out to see if they acted on that interest. 
Refining segments
Once you have put together some segments and run some campaigns, look at your reports. Are these groups coming in and making a purchase?
Create a segment for customers who opened the campaign and add purchase rules and find out.
Consider expanding the rules to include more or less customers.
Discover what is working by looking at promotional redemptions for customers who have been sent exclusive offers.
Continue to ask questions and to use your data and OptCulture to maximize engagement and increase revenue at the same time.
A quick look at the email reports dashboard will show you if customers are opening and clicking through emails.
Clicking on the name of the campaign will take you into more detailed reports such as how many opens or clicks for a given time period, or even what devices customers are using to view emails.
So let's talk. Give OptCulture a call to discuss how you are currently marketing to your clients and how using segmentation can help your business increase customer engagement.
---
About OptCulture®
OptCulture Marketing for Retail Pro helps specialty retailers improve customer loyalty and engagement with their brand via customizable, omnichannel marketing. Capabilities and features include: Omnichannel loyalty, digital receipts, email & SMS marketing, campaigns & automation, custom promotions, ecommerce purchase data integration, mobile client app for accessing rewards, tablet or kiosk for in-store loyalty signups, analytics, and omnichannel customer data management.