2020 Retail Pro Business Partner Awards
Progress lies not in enhancing what is, but in advancing toward what will be.

Khalil Gibran
2020, though challenging worldwide, has one key benefit: progress.
For retailers who had been working toward omnichannel operations, progress meant an accelerated leap into unified commerce.
For our partnership, progress is the result of the drive for honing efficiency and the expansive pull of innovation, new learning curves and systemization.
Progress with Retail Pro Prism too has brought with it the flux and learning curves of new vision, new strategies — and along with this, new outcomes.
Together we entered the year – with all its challenges – in the strength of progress in our partnership.
Global Acclaim
Your consistent commitment and quality as Retail Pro advisors, providers, and supporters earned recognition for Retail Pro technology as the top POS for midmarket retail from industry minds and brands of high reputation alike.
Market Dominance
Your tireless, creative drive to conquer and nurture every brand and every relevant vertical has won more retailers' mindshare worldwide than any other POS provider in our highly competitive market, and has kept up the momentum during COVID-19.
Significance
Your self-giving diligence to facilitate retailers' pursuit of optimized efficiency and unparalleled experiences promotes progress in retail and benefit to all who partake of retail's goods and services.
We congratulate those Business Partners whose skill and striving has excelled beyond their peers in the term leading up to 2020.
Partner of the Year
---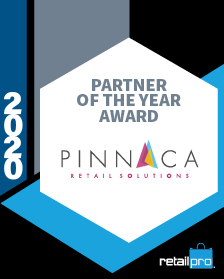 We honor Pinnaca Retail Solutions for the spirit and zeal of a true Partner, both to see and work toward mutual success. The team at Pinnaca always takes the initiative to adopt and apply their expertise toward new Retail Pro technology with an eye focused on improving retailer experience
Jonathan Scutt Memorial Technical Excellence Award
---
The Computing Solutions team lives and breathes Retail Pro. They are passionate, solution-focused, and dedicated to excellence in every deployment and beyond, with ongoing service excellence. 
Asia Pacific Awards
---
Europe Awards
---
Latin America Awards
---
Middle East | Africa Awards
---
North America Awards
---