3 Operational benefits of 5G-powered IoT interconnectivity
5G networks have rolled out in only a handful of U.S. cities, but that momentum is growing.
Recent research from Barclays Corporate Banking suggests that 5G could supercharge the UK economy by up to £15.7 billion per year by 2025.
The technology is 20 times faster than 4G and will connect not just people, but interconnect and control machines, objects, and devices as well.
That speed, coupled with virtually no latency, means the new networks will nearly eliminate lag time.
1. Improving communications along the supply chain
For supply chain management, 5G provides greater connectivity and reliability, which will lead to improved communications between brands, transportation, and consumers.
While the technology will transform warehouse management through the use of the internet of things, artificial intelligence, and robots, it will also improve the in-store customer experience.
Providing 5G connectivity in physical stores means Internet of Things (IoT) devices can easily communicate on a fast, reliable network that doesn't require too much power.
Because of their low power consumption, 5G networks can provide up to 10 years of battery life for low-power IoT devices.
2. Optimizing inventory visibility and management
Technology such as smart shelving, which uses many sensors to provide real-time inventory visibility and pricing updates, as well as dynamic pricing, automated checkouts, connected fitting rooms, and automatic replenishment will benefit from 5G networks.
In addition, the boost in speed will power retail analytics, inventory visibility, demand forecasting, and endless aisle technologies.
The faster network will enable more accurate real-time data to flow, ultimately facilitating smarter, more robust systems.
More operational and inventory decisions will be handled by automation.
Inventory, for example, will be tracked more quickly and accurately, which will improve forecasting quantities.
Sales associates won't have to do manual inventory counts and can spend more time interacting with customers.
Having the right amount of stock on hand increases customer satisfaction, because — thanks to accurate inventory counts — products will be available on demand.
3. Boosting digital connectivity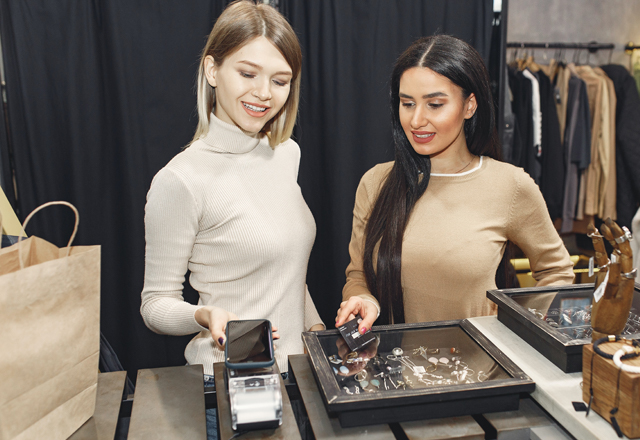 5G promises to facilitate a whole new world of digital connectivity.
Mobile shoppers will benefit as the paths to purchase in even the busiest of stores will be smooth.
5G also offers low power consumption (a 90% reduction in network energy usage from 4G) and high reliability, which makes it well suited for the retail space.
For example, in China, the Shanghai Lujiazui L+ Mall uses the 5G digital indoor system, network connectivity across 12 floors and more than 140,000 sq. meters of floor area.
5G enables the connection of more devices than 4G and improves the responsiveness of wireless technologies.
Because of its ability to improve backend processes through its support of IoT devices, as well as the overall customer experience, 5G technology will rock retail's world.
---