Simplifying the omnichannel purchase journey with Retail Pro Prism
Building a clientele is tough. It requires understanding who the customer is, what their tastes are and how to serve them: a simple plan, but not easy to execute. A retailer needs inventory tools that luckily, omnichannel POS and retail management platform Retail Pro Prism provides, to efficiently accomplish this feat.
Sometimes, customers aren't sure of what they want, and when they guess incorrectly, the dreaded return process begins.
The global COVID-19 pandemic has caused many retailers to institute extended return periods that go beyond the traditional 30-day window. And, with many brick and mortar stores operating at reduced schedules, many shoppers turned toward ecommerce for everything from toilet paper to jigsaw puzzles to exercise clothing.
But with that change came an increase in returns, particularly with clothing, because online shoppers can't be certain of fit and quality.
Making it easy for customers to not only find products but to also make returns if necessary, creates a frictionless experience that shoppers are comfortable repeating. An easy return process for customers doesn't mean the same for retailers.
With Retail Pro Prism, e-Commerce and POS at every location can be seamlessly integrated to the Retail Pro platform so they can share transactional data in real time (or whatever interval is optimal for your operations) with the inventory management tools in Retail Pro.
Providing ease-of-doing-business is a way to improve loyalty, because customers can purchase knowing the return process will be hassle free.
Retailer's Challenges in Simplifying Returns
Creating a smooth, simple customer experience is, ironically, somewhat complicated.
The omnichannel shopper's journey starts with the product research phase either online or, for those wanting a tangible experience, in-store.
The item might be purchased at that time or later, through the same – or different – channel. Finally, the product fulfillment phase includes several options: in-store pickup, home delivery shipped from the online or physical store or from the warehouse; a drop shipment directly from the vendor; or ship to store from the warehouse or another store.
Those logistics are transparent to the customer who, in most case, wants the product immediately or within a day or two. And then, sometimes, the product just isn't right, and a return is initiated.
While inventory visibility is often thought of as useful for marketing products and pre-sales activities, it can be helpful for "smart returns."
Returns and Inventory Visibility
Visibility can help managers at physical locations "see" where products are, and move them between stores according to customer demand.
In a return scenario, a retailer has a connected network of inventory visibility, and an understanding of predicted demand. When customers initiate returns, a shipping label is generated but instead of the shipment getting sent back to a warehouse, it is shipped to a retail location where there is demand for the product.
Accurate stock counts make the most efficient use of existing inventory and provide valuable insight about trending products. Technology such as RFID helps retailers quickly and affordably track inventory, and avoid human errors that occur with manual counting processes.
Inventory disparities can cost retailers money in lost sales or the added expense of keeping too much inventory in stock. Unified data processes are critical for proper order management, fulfillment and restocking of returned items.
Retail Pro has partnered with RIOT to offer easy integration at an affordable price, which hasn't been attainable in the past. Among its many benefits, with RIOT for Retail Pro you can increase stock accuracy to 98%+ to better support online sales and pickup in store, and reduce stock management labor costs associated with restocking, receiving, etc.
Going to the
2022 Retail Technology Show?
26-27 April 2022 | Olympia, London | Stand 6e28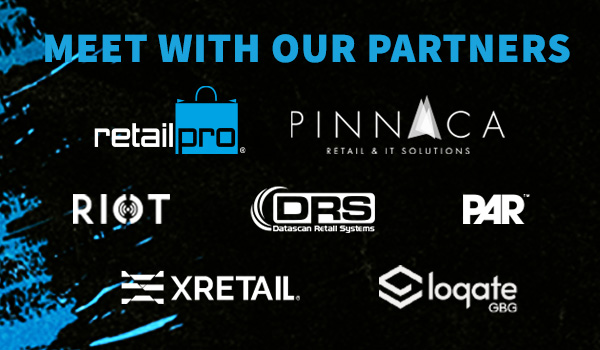 About Pinnaca Retail & IT Solutions
Founded in 2015, Pinnaca Retail & IT Solutions is a family-run business offering retail solutions, specialist management consultancy and IT services. Our company is UK based, with offices in London, and a client base across the globe.
We work with all levels of business to define and develop strategies focused on our clients' needs and objectives. Our tailored solutions are developed and optimised to fulfil your key business demands.
Over time we have added to our 20 years' experience in the field and built up a team of experts, with a wide range of experience and in-depth knowledge, who are eager to help your business succeed and grow.
About DataScan Retail Systems
Datascan Retail Systems are a leading UK and European supplier of solutions to the retail sector, from small businesses through to mid-tier and international enterprises. We have vast experience in the analysis and design of retail IT and the implementation of EPOS and Stock Control Systems and provide all the services required to plan, implement and maintain an effective Retail Management System. We are committed to match the Retail Pro System to the exact needs of the retailer, utilising our development, training and help desk teams.
About RIOT
RIOT is turning traditional RFID solutions for retail on their head with RIOT Insight​. Insight is RIOT's real-time inventory accuracy service offered as a simple but powerful add-on to a retailer's existing systems. 100% inventory accuracy to support Omni-channel is now yours on demand.
About PAR
PAR Technology Corporation provides industry leading software and hardware solutions that are always there when you need them but never in your way.
State of the Art Point of Sale Systems.
Tablets and Portable Devices.
About XRetail
XRETAIL is a Global leader in Unified Commerce solutions, with a prime mission to empower enterprise retailers by helping to boost their sales and retain their clients. Through state-of-the-art technologies, integrations, and solutions, the XRETAIL platform creates unified sales channels including eCommerce, Mobile commerce, and Social commerce. XRETAIL's Cloud-based platform creates seamless end-to-end solutions allowing enterprise retailers to blend brick-and-mortar and digital retailing into one unified platform, with notably enhanced customer experience both online and offline.
About Loqate
Combining leading technology with the richest data, Loqate provides several solutions to help bring businesses across the globe closer to their customers:
Address Validation
A faster, easier way to capture and verify addresses in real-time for your online forms and checkouts.
Email validation
Increase email delivery rates, boost customer marketing and reduce bogus registration when you verify email addresses upfront.
Mobile & phone validation
Take the guesswork out of reaching customers. Capture the right phone number, mobile or landline at the point of entry.
Data maintenance
The foundation of any customer management strategy, Loqate's cleansing and maintenance software helps build lasting customer relationships.